Featured on BMJ.com!
Professor Mieke van Driel, Head of General Practice at the University of Queensland, opened the recent BMJ Global Health workshop with an inspirational talk, sharing her definition of global health, and her experiences working with Medecins Sans Frontieres.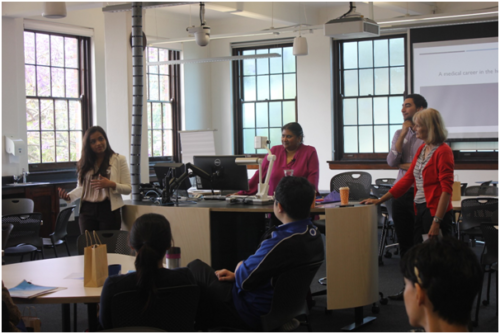 http://blogs.bmj.com/case-reports/2017/01/12/global-health-workshop-university-of-queensland-brisbane-australia-with-dr-seema-biswas-bmj-case-reports-editor-in-chief/
Recent publication
Topical antibiotics for preventing surgical site infection in wounds healing by primary intention (Review)
Heal CF, Banks JL, Lepper PD, Kontopantelis E, van Driel ML
Cochrane Database of Systematic Reviews 2016, Issue 11. Art. No.: CD011426.
DOI: 10.1002/14651858.CD011426.pub2.
A B S T R A C T
Background
Surgical site infections (SSI) can delay wound healing, impair cosmetic outcome and increase healthcare costs. Topical antibiotics are sometimes used to reduce microbial contaminant exposure following surgical procedures, with the aim of reducing SSIs.
Objectives
The primary objective of this review was to determine whether the application of topical antibiotics to surgical wounds that are healing by primary intention reduces the incidence of SSI and whether it increases the incidence of adverse outcomes (allergic contact dermatitis,
infections with patterns of antibiotic resistance and anaphylaxis).
Full text  -        PDF   ONLINE